Welcome
It is a pleasure to have you visit this free genealogical site about the history of Bond County, Illinois. We hope you find helpful clues for your research of Bond county ancestors.
Your e-mail contributions to Site Coordinator will be appreciated and promptly worked for incorporation into the site. Please,
Don't hesitate to contribute images or transcriptions of genealogical items you have about Bond County ancestors.
Feel free to submit your Bond County ancestors' family group sheets and/or descendants charts.
If you notice a typo or broken link on this site, please let me know.
If you have the time and desire to help in any way, please volunteer.
Enjoy your stay, and come again soon!
Lynn Tooley
Bond County GenWeb Coordinator
Unidentified Girl
| | |
| --- | --- |
| | This photo was mailed from Doris in Smithboro to Lewis S and Cora (Seaney) Brummet. If you have an idea who the girl may have been, please send us an email. |
Matchbooks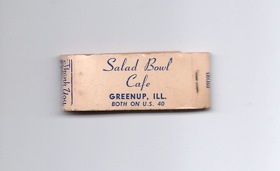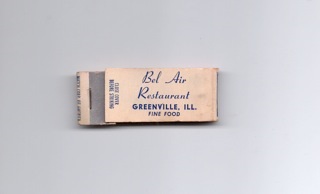 I came across an old matchbook from a restaurant on U.S. 40 called the "Bel Air Restaurant" in Greenville, ILL. .... The flip side is for another restaurant on U.S. 40 called the "Salad Bowl Cafe" in Greenup. ILL. I don't know anymore about the restaurants but I'm sure it will bring back fond memories to someone. Susie