Biography - John Burkhardt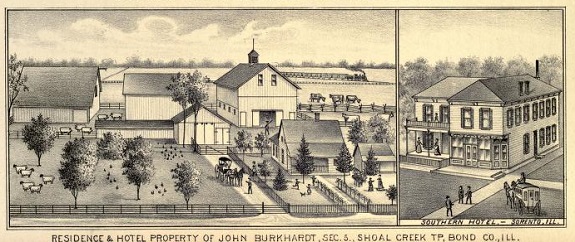 JOHN BURKHARDT. We who have been born under the most advantageous circumstances of American life, enjoying the principles and freedom secured to us under our republican form of Government, feel a peculiar fraternity for representatives of the Swiss nation, that republic which is now the oldest in existence, and we feel a pride in the stories of Tell and the loyal mountaineers who would yield no obeisance to the Austrians. The farmer of whom we write, and who now resides in the town of Sorento, was born in Switzerland, Canton of Berne, November 17, 1841.
John Burkhardt is a son of Peter and Kate (Martin) Burkhardt. His father, who was an hotel keeper in the Old Country, died when he was but a child of three years, after which he became an inmate of an uncle's home. Up to his sixteenth year he attended school, and there gained a good practical education. When but a boy, he entered a clothing house in order to learn the business, and with the restlessness of youth he determined to seek new fields in which to make his fortune. In 1857 he came to America, borrowing the money to pay his expenses. He at once proceeded to Bond County, and here remained for two years; then, in 1859, he crossed the plains to Pike's Peak, thence going to California. There he engaged in the mining business for five years, and made a small fortune, but, as was often the case, he was finally left with but a mere pittance, having been beaten out of his earnings by his partners. Sickening of camp life, he returned to Bond County via the Isthmus and New York, and was for a time employed on a farm, and then became proprietor of a cider factory, in which he made some money.
Our subject finally purchased forty acres of land adjoining the town of Greenville. This he sold, with a handsome profit, at $100 per acre. In 1876, he married Miss Augusta Siemens, daughter of the late Christian Siemens, of Sorento, and immediately after the marriage the couple settled on a large farm near Greenville. Mr. Burkhardt was engaged in agricultural work until 1883, when he came to Sorento and built the large hotel known as The Southern, and which he still owns. This he ran until a year ago, when he went to live on a fine farm inherited by his wife at her father's death. Since coming here he has rented his hotel property, which brings him a comfortable income.
Of the seven children born to Mr. and Mrs. Burkhardt, only five are living: Johnnie, Ida, Arthur, Albert and Winnie. All are being educated in the schools at Sorento. Robert E. and Estella W. are deceased. Mr. Burkhardt is a Republican of the most pronounced kind. Socially, he is identified with the Modern Woodmen. In church matters, he and his family attend the German-Lutheran Church.
Extracted 20 Dec 2016 by Norma Hass from 1892 Portrait and Biographical Record of Montgomery and Bond Counties, Illinois, pages 354-355.