Queries
If you are looking for help with a Bond County ancestor line, please submit your challenge along with appropriate family group sheet information.
2019 Mar 13
In the Bond County marriage records there is a listed the marriage of Charles RONIGER and Barbara AMBUEL on November 17, 1855. Is there any record of the parents of either person.
Thank you
Karen Stosak kandd13@hotmail.com
2018 Aug 02
Seeking information about Thomas HUNTER and Susan STUART who lived in Bond County and attended the Mt. Gilead Presbytarian Church in the early 1800's. Specifically any family background of Susan STUART, who is said to be from the King Robert STEWART line in Scotland.
Thank you for your response.
Patricia Jones patralph327@gmail.com
2018 Apr 18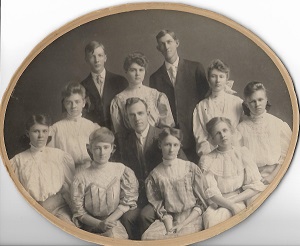 This picture was sent to me by the widow of Thomas Edwin SAVAGE's son, Morton LaVerne SAVAGE, some years ago. My SAVAGE line arrived in Bond County, Illinois, just before 1830 from Christian County, Kentucky. So the most distant relative I know for sure is Martin SAVAGE. He arrived with his brother Richard and both of their wives. Martin's son, Thomas, who married Elizabeth DOWNEY, was my great grandfather and Thomas Edwin's father. Thomas E. SAVAGE, my great uncle, was a school teacher in the Greenville area, I don't know exactly when. I think my grandmother, Viola SAVAGE, might be in the class but I don't recognize her.
Does anyone recognizes anyone in the picture?
Thank you!
Helen Jackson Jackson2714@comcast.net
2018 Apr 02 & 06
I have come across an "Autographs" book. It is signed by about 100 people from Beaver Creek, Bond County, Illinois from the dates of 1885-1931. I would love to find some infer on the person and the family of which this belongs. It says Jennie Hunt 1885 in the front page. It is also signed by Charles Albert Schubert in 1888, which I believe Jennie married on 1890-12-24. There are two other entries in this journal, from Rhoda (I am assuming this is Jennies daughter) and from Veryl (I am assuming this is Jennies grandson).
... list of all the last names I can see .... some are hard to read ...
Beffingwell, Blizzard, Braun, Brirbowes(?), Bruner(?), Cox, Drake, Durham, Eirenhandt (?), Eirenhaudt (?), Everett, Everett, Fish, Geries(?), Gerke, Gerkeye(?), Gills, Green, Grigory, Hartt, Hildner, Hobbs, Hoffman, Hunt, Hyatt(?), Jackson, Jackson, Jones, Kessler, King, Lagant, Lesch, McLain, Meurlot(?), Mills, Mills, Plant, Roberh(?), Robert, Robert, Roberts, Rodgers, Schubert, Seymour, Smith, Smith, Steele, Thompson, Vaughn, Vere de Vere (?), Waggoner, Waite(?), Warren, White, Williams, Wise, Wyatt(?)
Please help! I would love to get this book to extended family if that is possible but not sure if extended family lives in Illinois or in Oregon, where I live. Thank you for your help!
Samantha Hartley jsg503@gmail.com
2018 Mar 14
This Sunday the 18th is the 200th wedding anniversary of the late William LINDLEY and Jane MOODY! I just figured I would share this because they are pretty important individuals to the Lindley Family of Bond County Illinois.

I am currently trying to locate the grave site of both and it has not been easy, I have some good clues after visiting the courthouse.

One William, who is the most likely person I'm tracking, may have been injured or gotten sick on the way to Fort Wilbourn when he was enlisted as a private under Sam Huston. He is enlisted as "William Linley-Fayette county" basically just east of Hookdale, what used to be Perryville township.

The reference link to Record of the Services of Illinois in the Black Hawk War, 1831-32 ..., Volume 9, pages 80-82, Third Brigade, Captain Samuel Huston's Company.

Continuing the conversation before the reference, my ending point is he didn't have a will so Andrew MOODY, Jane's father, was made administrator, William was deceased by the 28th of September.

Any information you may have on the MOODYs and LINDLEYs of Bond would be great help.

I am a bit worried that some early grave records may be under water when Caryle Lake was made.

David W Lindley dwlindley@charter.net
2017 Dec 17
I am sending some information regarding Andrew J Redding who is buried in the Mulberry Grove Cemetery listed on your sight; which says the same thing as the Find a Grave sight. The birth date on the Find a Grave sight is incorrect. Andrew J Redding Senior was born in Kentucky in the early 1800's. Andrew SR. is on the census records with his sons Andrew, Richard and William along with other family members living in Bond County, Ill. All of the mentioned sons were in the civil war fighting for the Union. I have been doing quite a bit of work on all of this, so I'm pretty sure its correct information.

A couple of more things to add about the Redding brothers Richard and Andrew J Junior who are both buried at the Mulberry Grove Cemetery. Both Andrew Junior and Richard (Dick) Redding were in the 130th Illinois Infantry. I believe the Find A Grave sight has it as the 180th Infantry for Richard, which is incorrect. The GenWeb sight has the same as the Find A Grave sight. Andrew Junior's listing on the cemetery page of your sight doesn't have him listed as a Civil War vet. Richard (Dick) Redding is in the GAR picture that I believe is on your sight. I'm pretty sure brother Henry's information is correct.

Richard Marion Redding's first wife was Rebecca Ann Goodson. They were married in Bond, Illinois 1861. Their children were Henry, William, Rose, Margaret and Sophronia. Rilda (Hatfield) was married to Rebecca Ann Goodson's brother Andrew Goodson in 1900. Rilda Hatfield Goodson (Andrew Goodson's widow) then married Richard once Andrew and Rebecca passed. Rebecca's last name is definitely Goodson as my Grandma gave me that information before she died and I wrote it down. Rebecca Goodson Redding has a huge stone in the Mulberry Grove Cemetery that says Mother on the top and Rebecca Redding 1841-1914 in the front.

Thank you, Meg
2017 Jul 12
I recently attended the Bond County bicentenniel, (nice parade!) but was not successful in making a contact with any of the Spradling-Segrest-Riley-Ellsworth-Mayfield-Elam etc. families. I did meet with Toni McKean, formerly of Mulberry Grove and she added a lot of information to my heritage search.

Now I have a three-ring binder filled with connections. I am most informed on James and Cynthia Ann Jackson's family of Mulberry Grove, whose son Albert was my great-grandfather. We were able to find many gravestones of my ancestors when we visited the cemetery on July 1, 2017.

I am looking for information on Cynthia Ann's family - Jackson.
Irene Dennison Herr hisnher70@sbcglobal.net
2017 Jun 09
Hello, My name is Mike Choatie. I am a lover of local history. I think there are a lot of really good stories out there forgotten. I go to cemeteries and small towns and find neat buildings or people that may be interesting and I research them. I have a new blog where I will record what I have learned.

My wife and i were recently at Ticky Point (also called Mt. Pleasant)cemetery in Montgomery county. This is an interesting cemetery as it has several civil war soldiers and a few blackhawk war veterans.

One of the soldiers was a man from Bond county named Henry L. Greer. From what I have found Mr. Greer served in the 117th Ill. Inf co B. (common unit for the area) and was discharged and pensioned due to disability. In Aug. 1865 it appears he married Clarissa P. Greer. This is what I know thus far.

If you have any information regarding Henry L. Greer, or if you can point me in contact with those who might I would appreciate it. In particular I am looking for information on his war service and disability. Thanks you!

Sincerely, Michael L. Choatie, Assumption Il. destinationnada@tutanota.com
2017 Feb 22
I have been doing some family history work. I have learned that my great-great-great-grandfather Benoni Jennings and his wife Rachael (McKinney) Jennings died in the year of 1854 from a Cholera epidemic. (Source: "Portrait and Biographical Record of Montgomery and Bond Counties, Illinois, Chicago, Chapman Brothers, 1892.") I have been unable to locate any death or cemetery records. I thought, perhaps, you might have some information. Thanks for your time and assistance. Sincerely, Kim Withrow
2017 Feb 18
i would like to see if someone would help in my family research for koonce and anderson...both are part of my family and ive found out that they are from bond county illinois..ive tryed a couple of times to contact someone but have heard nothing back...if you cant help me, would you please recommend someone who can....thx tom koonce TWKOONCE@aol.com
Unidentified Girl
| | |
| --- | --- |
| | This photo was mailed from Doris in Smithboro to Lewis S and Cora (Seaney) Brummet. Do you have an idea who the girl may have been? |