Military
Officers and Members of Colby Post No. 301, G. A. R.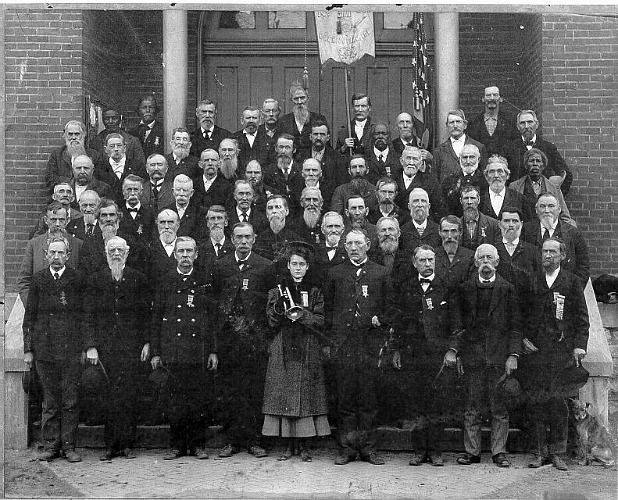 First Row:-(Reading from left to right), John H. Hawley, R.K. Dewey, J.T. Buchanan, Officer of the Day; Ransom Pope, Junior Vice Commander; Miss Helen Reid, Daughter of the Post; J.H. Ladd, Commander; W.W. Lowis, Adjutant; H.H. Staub, Oliver Hockett, Chaplain.
Second Row:- W.A. McLain, George F. Harlan, J.L.Koonce, A.C. Jett, S.G. Enloe, Colonel J.B. Reid, Thomas J. Long, J.C. Sanderson, Wm. D. Matney.
Third Row:- Samuel Spratt, Frank Parent, G.B. Keesecker, Jacob Dowell, O.T. Lee, M.F. Book, C.I. Young, J.W. Anthony, Joseph L. Turner, George Sherer, F.B. Sells.
Fourth Row:- Joseph Armstrong, Joseph F. Watts, A.A. Thompson, Noah Vaughn, John W. Miles, H.C. Burton, Dr. David Wilkins, Surgeon; Philip Leidner, Archie Ewing.
Fifth Row:- J.M. Alexander, George W. Grigg, H.W. Wait, Nelson Adams, E.S. Valentine, T.R. Loggins, James Ewing, William Ingles, H.E Sapp.
Sixth Row:- Wm. Green, Francis Kinney, Wm M. Goad, Fred Dommert, L.T. Ellingsworth, B.F. Schweitzer, Rufus Cox, George Johnson, John A Finney.
Contributed by Victoria Lohr